SPA - BEAUTY - HEALTH - Something for everyone!
SINGLE DEVICE PRICING:

REGULAR PRICE:  C$1,449.00 / MONTHLY SPECIAL: C$850.00

CURTAIN:  C$48.00 - Optional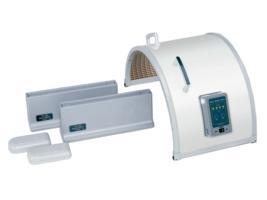 The Grande HotHouse is a portable, easy-to-use, far infrared (FIR) device. 

It produces a gentle, pentrating heat which is absorbed deep into the body.  This elevates local body temperature stimulating blood circulation and accelerating metabolic exchange between tissues to relieve pain and accelerate healing. 
Registered as a Class II medical device in Canada. 

Dimensions: 31.7" wide x 14.5" long x 15.8" high
Manufacturer's warranty: 1 year.


Product Specifications
8-10 micron wavelength

Regular HotHouse
Weight: 13lbs / 5.7kgs
Length: 26.3"
Width: 14.5"
Height: 13.8"

vs.


Grande HotHouse
Weight: 16.5lbs / 7.5kgs
Length: 31.7"
Width: 14.5"
Height: 15.8"

120 v - 60Hz - 330w

Extension stands: 6 1/2" each

Self Timer: 15 minute increments. 1 hour total

Colors are White and Grey.