African Black Soap - with Mango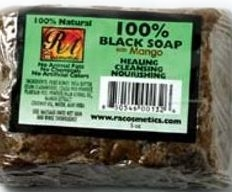 PRICE: C$5.98 - 142 g / 5.0 oz.
Code: AIS-126

Natural Black Soap - Tropical Mango.
Natural Healing - Mango Scented.
This is a 100% natural black soap that contains Natural Mango Extract.
Great for damaged skin and moisturizing with natural softening ingredients.
Perfect for persons suffering from eczema and psoriasis.
Contains no animal fats, chemicals, or artificial colours.
USAGE:
Best to massage onto wet skin, then rinse thoroughly.
INGREDIENTS:
Pure Honey, Shea Butter, Osun (Camwood), Cocoa Pod Powder, Plantain Peel Powder, Palm Kernel Oil, Mango Extract, Coconut Oil, Water, Aloe Vera.